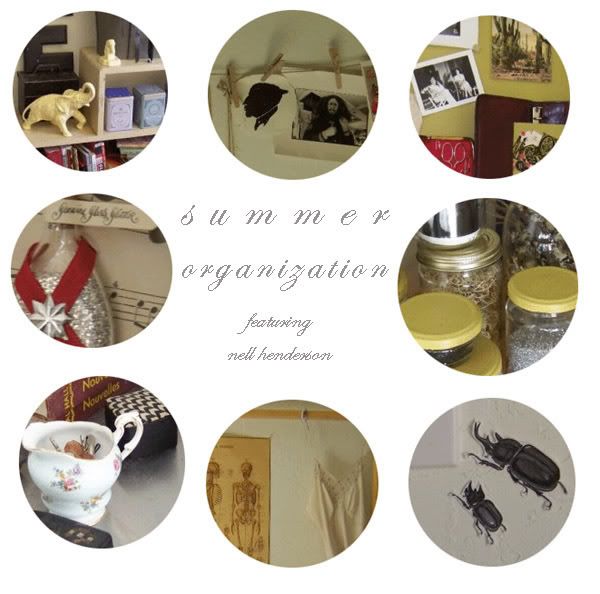 So i'm not gonna lie, but my bff nell kinda has the best taste and can make anything cool. It's sorta not fair. I recently went down to Santa Cruz, Ca where she now resides and was able to see first hand how amazing her house was. With her approval she has allowed me to share some of her decorating secrets.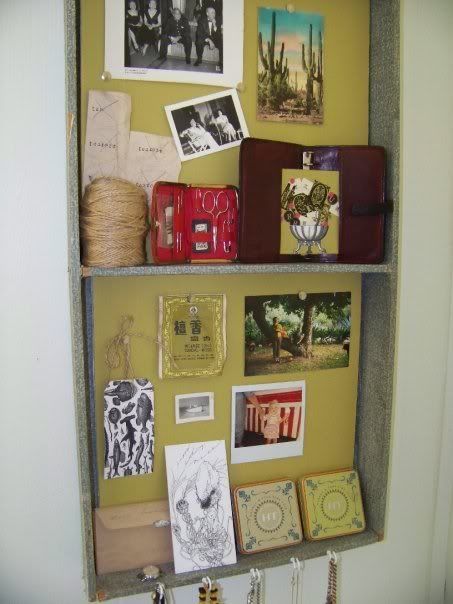 this is an old cabinet insert/drawer organizer that she lined and then hung on the wall with twine. To make even more use out of it she screwed in some hooks at the bottom to hold necklaces and such.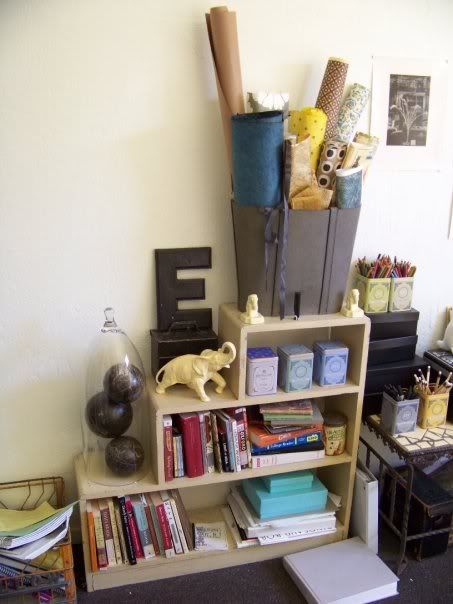 Here's a basic shelving unit that she spiffied up by using harney and sons tin boxes to hold stuff, a felt bag filled with assorted wrapping paper and a bell jar like thing (that i got for her from west elm) filled with globes. I also would like to note the use of tiffany's boxes in the bottom right corner to hold papers and notes and stuff)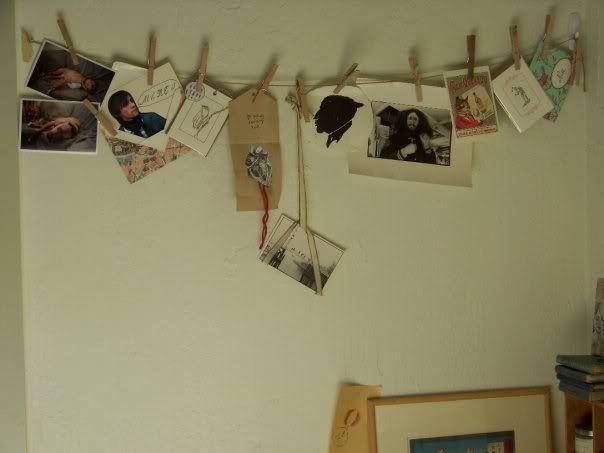 Such a basic idea, but i still enjoy it; twine and clothes pins to display art, letters and card.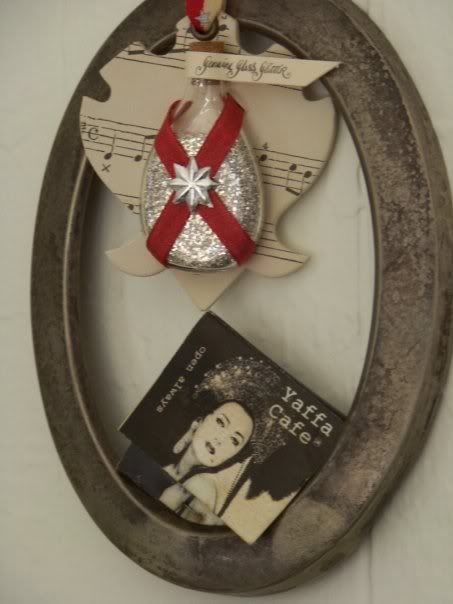 This is one of my favorite ways of filling up an empty wall. Just take a frame and fill it up with things. No mat board or glass.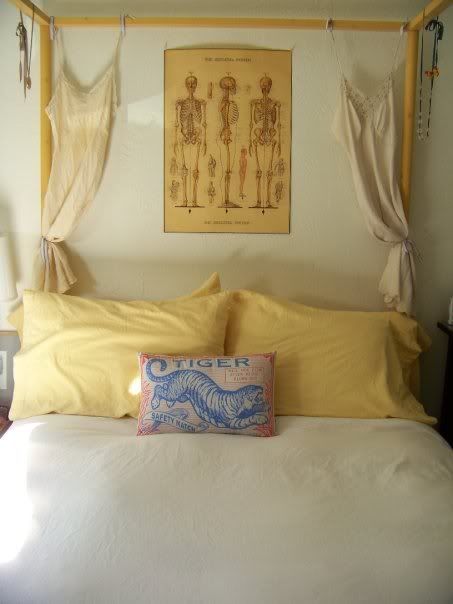 I remember talking to nell on the phone when she got this bed, and I think it was well worth the cost (it's actually quite a good price considering it's a four-poster bed). I like the use of slips on the sides.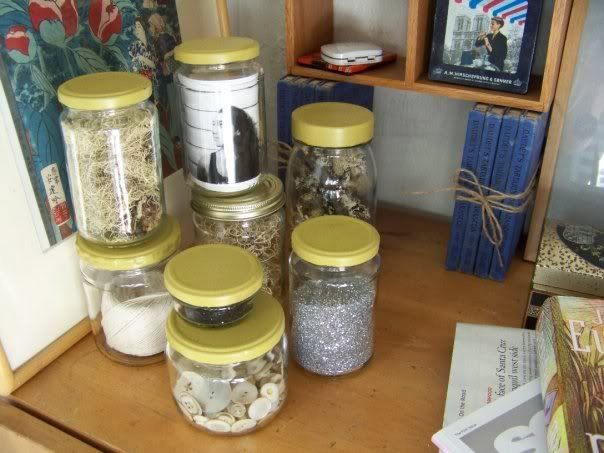 By her bedside she has these recycled jam/condiment jars that she painted lids to. I really like the idea of holding a single photo in one of them. ALSO!! note the use of vintage books! So cute!



Nice use of old teacups to hold pencils and office supplies. Also she used a tablecloth under her computer to protect her desk from scratching.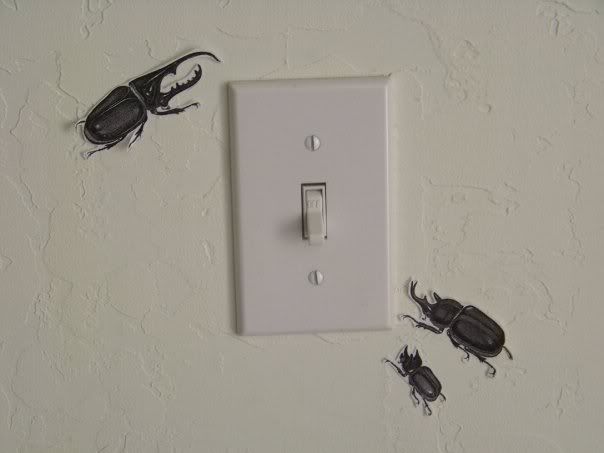 Add quirky xerox cutouts to spruce up an area or object that is normally quite bland.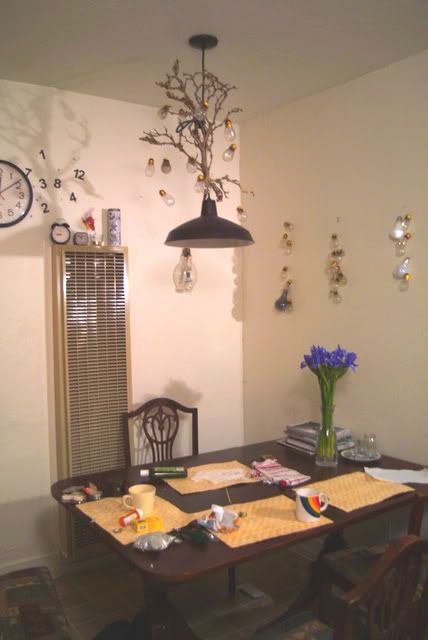 This is her dining room table. I love how she added twigs,moss and burnt out light bulbs around the overhead lamp and the numbers around the clock.

Hope this inspires you guys, oh... and thanks Nell!